For many brides-to-be, a great smile is another must on their pre-wedding checklist, like getting highlights or choosing a florist. The reasons are many, and include something old, something new. Wedding photos are forever. But with social media, the entire world can see them too.
Women are exposed to a never-ending feed of flawless bodies and winning smiles. They feel pressure to show a perfect smile in their wedding photos. Carmen Papaluca, a PhD student at the University of Notre Dame studying social media peer-pressure, says, "Recent research has found that appearance pressure within social media is associated with the motivation to alter one's appearance," "Long-term exposure to ideals in this environment is likely to normalize and exacerbate these desires, particularly something like the 'perfect smile,' which is now seen to be achievable."
That's the interesting thing: the smiles are now achievable. Social media has also educated these women about their available options. "Ten years ago, brides would come in knowing they didn't like their smile, and ask, 'Is there anything we can do about it?'" says Jon Marashi, MD, a cosmetic dentist in Los Angeles. "But now, with the University of Google and Instagram State University, patients have access to so much information, so they come in saying, 'I want this procedure. I saw this. Am I a candidate for that?'"
Traditionally, orthodontic procedures could cost up to $20,000 and take years. So a bride-to-be would have to plan well ahead of time for her big day's photo opportunities. Today, however, there are even more options. Several services are now providing low-cost teeth-straightening products for a fraction of the cost of traditional orthodontics. For example, Smile Direct Club has partnered with David's Bridal to serve these new wedding-day desire. Everything associated with weddings already has a hefty price tag, and the low-cost and speed of the service has earned major kudos. You can even take Smile Direct Club's free 30-second Smile Assessment online.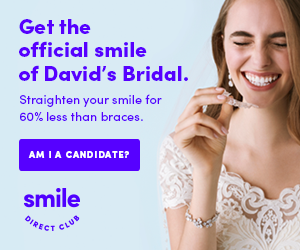 Even if you have more severe teeth issues or a wedding that's less than a year away, there are options. Brides with a wedding only six months or less still have time. They may not achieve the ideal result in the limited time they have, but improve does happen quickly. Any brackets can be removed at the time of the wedding. And treatment can even continue after, if you want to get the ideal outcome.
Regardless of whether you use traditional orthodontics or one of the new services, whatever you do, don't wait until right before the wedding. More time means more options. And of course, when it's all done and over, make sure to smile for those perfect wedding day photos.